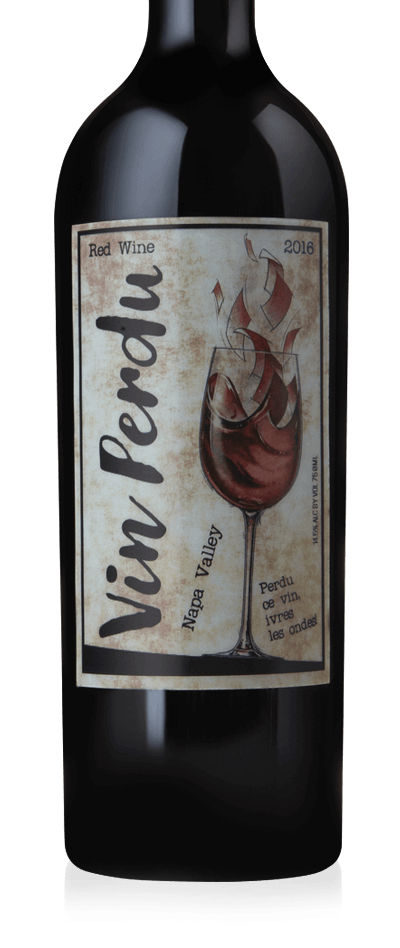 Vin Perdu
2016 Vin Perdu Napa Valley Red Blend
The Wine
RoShamBo! Also known as rock-paper-scissors, is a hand game many of us played growing up. Some of us even still employ this game to determine the outcome of crucial decisions, such as who has to fetch the coffee at Starbucks. One too many rocks, paper or scissors and you could lose...hence the inspiration for this year's lost wine Vin Perdu 2016!
This is your opportunity to secure an allocation of our best value, most mind-altering wine from our Napa Valley estates. Every year the blend changes. The Vin Perdu 2016 Bordeaux-blend is masterfully composed by Winemaker Heidi Barrett to include: 75.1% Cabernet Sauvignon, 15.5% Petit Verdot and 9.4% Cabernet Franc from the Fantesca, Amuse Bouche, Au Sommet, La Sirena and Barrett & Barrett vineyards. Each label features our patented flip lenticular label, and our unique storytelling with each new vintage. Vin Perdu continues to garner remarkable ratings for a second label wine.
Acquire
Vin Perdu 2016 allocations are by the six pack, and we've maintained the price of $95/bottle. To order, please contact Eileen@AmuseBoucheWine.com, or complete the attached order form. We also produced 50 five-liter Jeroboams, hand signed by Heidi and available on a first-in basis to our most loyal customers who just cannot resist the visual and gustatory sensations of this finished product.
Rock beats scissors. Scissors beats paper. Paper beats rock. Nothing beats our hospitality. The next time you visit Napa Valley, contact Naomi at Naomi@AmuseBoucheWine.com to schedule a personal tasting experience.
We encourage you to secure your allocations quickly. The 2015 vintage was gone as fast as a rapid sequence of rocks, paper, scissors. Don't take your chances and get RoShamBoed. Thank you for your continued love and support of the wines we are so passionate about.
For more information call us at 1-707-251-9300 or email us at info@amusebouchewine.com.
Antonio Galloni
2016 Vintage
"The 2016 Vin Perdu is absolutely gorgeous. In 2016, Vin Perdu is once again based on a core of Cabernet Sauvignon. Rich, ample and beautifully layered in the glass, the 2016 has a lot to recommend it. Mocha, plum, bittersweet chocolate, leather and spice meld together in a super-expressive, resonant wine from John Schwartz and Heidi Barrett. The Vin Perdu is technically the second wine of Amuse Bouche, but in many vintages I prefer it. At $75 a bottle, it is one of the great values in Napa Valley wine."
- Antonio Galloni, Vinous, December 2018
James Suckling
2015 Vintage
"There's a real sense of peppermint on the nose here as well as freshly picked blackcurrants, herbs and cedar. The refinement is so impressive with velvety, flowing tannins, vibrant acidity and a long finish that just oozes minerality. Tight and needs time still. Drink from 2020."
- James Suckling, December 2017
The Wine Advocate
2015 Vintage
"Blended to perfection, the Vin Perdu 2015 is deep garnet-purple color with a nose of red currant jelly and blueberry compote with cinnamon stick, herbs and lavender plus pencil shavings and tobacco hints. Full-bodied with firm, chewy tannins and good concentration, it offers up earth and mineral notions in the mouth, and there's a compelling herbal lift to the finish."
- The Wine Advocate, December 2017