New Release
2016 Napa Valley Red Wine Blend
Twenty years ago, Jim Laube of the Wine Spectator asked Heidi where our vineyard holdings for Amuse Bouche Winery were located. Heidi replied, "I would have to kill you if I told you!" A long silence ensued at our lunch table. This slightly awkward, tongue-in-cheek moment from our wine history is the inspiration for our Vintage 2016 artwork. Heidi Barrett herself painted "A Secret Vineyard," a lovely image that perhaps may give further guidance to Mr. Laube. Heidi has been painting as long as she has been making wine, and we are thrilled to showcase both of her amazing talents in and on the bottle with our Amuse Bouche 2016.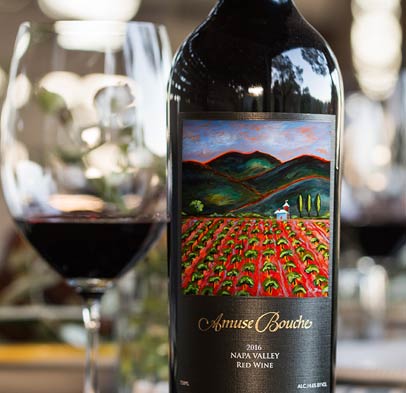 Special Event
Amuse Bouche Welcomes Rodrigue
We are very pleased to announce our upcoming collaboration with Wendy Rodrigue, wife of late New Orleans Renowned Blue Dog artist, George Rodrigue. Please join us for an opening reception with Wendy Rodrigue! We will feature Cajun inspired cuisine and a selection of exclusive wines from our portfolio. The exhibit will be promoted throughout the month of August and all curated signed originals will be available for acquisition.
Opening Reception
Saturday, August 03, 2018 from 3:00 - 5:30PM
La Boutique du Vin—Amuse Bouche
1130 Main St, Napa, 94559
RSVP by July 01 (Required): Naomi@AmuseBoucheWine.com or call 707-251-9300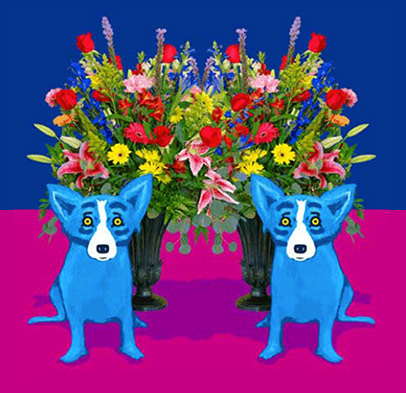 Napa Valley Wine
Luxury Napa Valley Wines
Collectible wine and collectible art come together to create Amuse Bouche Napa Valley Red Blend, a joint wine venture with Heidi Barrett and John Schwartz. This Pomerol-style Merlot/Cabernet Franc blend is made from some of the best grape sources in the Napa Valley. Amuse Bouche wine aspires to rival its greatest cross-Atlantic counterparts, such as Chateau Petrus and Chateau Le Pin.
As winemaker for several of the hottest cult wines in California, and referred to by TIME magazine as "The Wine Diva of Napa", Heidi Barrett is always looking for new challenges. Heidi explains, "We have created Amuse Bouche wine, a limited edition, superb Pomerol style wine with the added value of limited edition art that is available to consumers through a variety of channels."