New Release
2015 Amuse Bouche Napa Valley Red Blend
In our world, there is no trinity quite so holy as that of wine, food and art. These pleasures - three of life's greatest - come together harmoniously as we proudly offer our Amuse Bouche 2015. Made in the Pomerol style, this year's blend is 88% Merlot and 12% Cabernet Franc from our vineyard on Rutherford's eastern hillside.
Our Amuse Bouche 2015 label is graced with astonishing artwork entitled Le Pique-Nique by Jacques Pépin. A longtime friend of ours, Jacques is a world renowned chef whose impactful work in the culinary world spans more than six decades.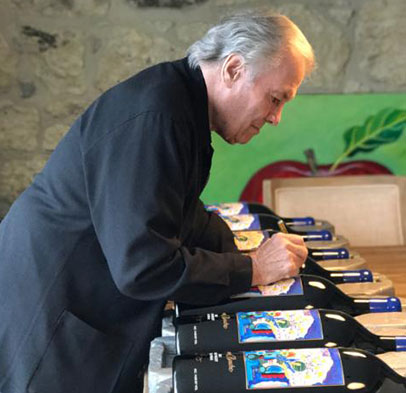 Napa Valley Wine
Luxury Napa Valley Wines
Collectible wine and collectible art come together to create Amuse Bouche Napa Valley Red Blend, a joint wine venture with Heidi Barrett and John Schwartz. This Pomerol-style Merlot/Cabernet Franc blend is made from some of the best grape sources in the Napa Valley. Amuse Bouche wine aspires to rival its greatest cross-Atlantic counterparts, such as Chateau Petrus and Chateau Le Pin.
As winemaker for several of the hottest cult wines in California, and referred to by TIME magazine as "The Wine Diva of Napa", Heidi Barrett is always looking for new challenges. Heidi explains, "We have created Amuse Bouche wine, a limited edition, superb Pomerol style wine with the added value of limited edition art that is available to consumers through a variety of channels."