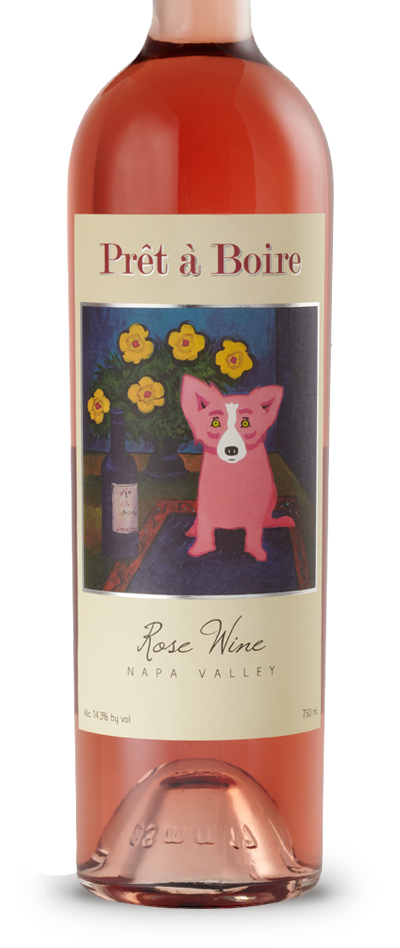 Prét à Boire
2016 Prét à Boire Napa Valley Rosé
We are pleased to offer you Prét à Boire 2016, the sixth vintage of rosé wine produced from our high-altitude Syrah and Grenache vineyards located in the East Rutherford hills of Napa Valley.
The Wine
Prét à Boire 2016 ("Pret Ah Bwar") is a blend of 35% Syrah and 65% Grenache. It is ready to drink now or can be savored over the coming years. If you like aromas of watermelon rind, crushed strawberries and floral rose petals, these pink dogs are for you!
The Artist
Some of you may not be aware that the world lost George Rodrigue on December 14, 2013. He was 69 years old. George, and his wife Wendy, have been dear friends of ours since 2005 when we initially commissioned George to paint a "blue dog" for our 2006 Amuse Bouche release. A native of Louisiana, George launched his painting career in the 1960s. He was not only a magnificent artist; George was a true community leader, philanthropist and advocate of arts education, inspiring a new generation of artists through the George Rodrigue Foundation of the Arts. Our hearts are heavy with George's absence. We are fortunate to be able to surround ourselves with so many vivid, vibrant reminders of his beautiful, whimsical outlook on life.
Acquire
With the bountiful harvest, we produced a record 750 cases of this vintage, as well as ten jeroboams. Please downlowd the order form below to purchase, or contact us at 1-707-251-9300 or email us at info@amusebouchewine.com. We will ship the wine in its unique and distinctive acrylic box in the Spring 2017.
For more information call us at 1-707-251-9300 or email us at info@amusebouchewine.com.
WINE SPECTATOR
2016 Vintage
"Floral peach and strawberry aromas pair with supple, spicey and vibrant flavors. Grenache and Syrah. Drink now." - Wine Spectator, June 2017
WINE SPECTATOR
2013 Vintage
"Bursts with aromas of rose petal and raspberry, which leads to delicately complex flavors of cherry, herb and spicy cinnamon, plus lively acidity. Syrah and Grenache. Drink now." - Wine Spectator, November 2014
ANTHONY DIAS BLUE
2011 Vintage
"Lush pink color; bright raspberry nose; silky smooth, dry, juicy and vibrant with raspberry, plum and tangy acidity; balanced, rich and graceful with precise fruit flavors and lovely length; a masterful wine that just happens to be a rosé." - The Tasting Panel, November 2012
"This ready-to-drink rosé refreshes the thirsty palate with flavors of white strawberry, watermelon, raspberry, and freshly cut grass." - Brett Anderson, "Winter Vintages: Our 100 favorite wines for the season", RobbReport Holiday 2012 Host's Guide
"Almost French. New from Napa's most Francophile vintners, Prét à Boire, a Rosé that will go on the market in spring 2011. It's the latest offering from Amuse Bouche, a cult winery known for its French style winemaking, Gallic monikers and arresting labels such as this one by blue dog artist George Rodrigue." - France Magazine, January 2011
"Heidi Peterson Barrett's mouthwatering, full-bodied Rosé - composed of 70 percent Syrah and 30 percent Grenache - tantalizes the nose with scents of rose petals and strawberry before a panoply of refreshing flavors, including plum and dry herbs, emerges. The perfect complement to the gazpacho." - Robb Report, July 2011