Press & Reviews
Amuse Bouche Napa Valley Red Wine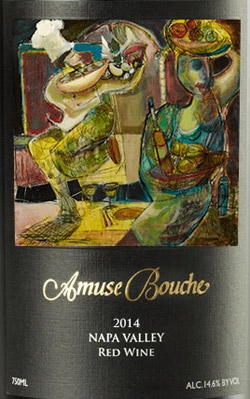 Six world-famous Merlot wines
"The brilliant Heidi Barrett, famous for, among many other things, being winemaker at Screaming Eagle, created this wine in 2002 with her friend John Schwartz. Around 8,400 bottles each year, with the stated aim of making a 'Pomerol-style Merlot from Napa'."
Read more at Decanter.com
95 points - James Suckling, 2014 Vintage
"With such beautiful definition and balance, this may be the best ever from Amuse. Medium to full body, linear backbone and length, and a lovely, fresh finish. Drink now." - December 2016
Amuse Bouche 2014 Napa Valley Red Wine
95 POINTS
"With such beautiful definition and balance, this may be the best ever from Amuse. Medium to full body, linear backbone and length, and a lovely, fresh finish. Drink now."
- James Suckling, December 2016
94 POINTS
"The 2014 Amuse Bouche, the flagship Merlot/Cabernet Franc blend, is absolutely delicious. Dark cherry, mocha, spice and leather open up nicely in the glass. Fleshy, supple and radiant, with silky tannins underpinning the fruit, the 2014 has a lot to offer, even in the early going. I would prefer to drink it over the next decade or so."
- Antonio Galloni, January 2017
Amuse Bouche 2013 Napa Valley Red Blend
95 POINTS
"With such beautiful definition and balance, this may be the best ever from Amuse. Medium to full body, linear backbone and length, and a lovely, fresh finish. Drink now."
- James Suckling, December 2016
94 POINTS
"The flagship wine of Amuse Bouche, the 2013 Proprietary Red Blend Amuse Bouche (Merlot), 96% Merlot and 4% Cabernet Franc, has always been one of the best Merlot-based wines in Northern California. It shows loads of espresso bean, white chocolate, mocha, black cherry and blackberry fruit. The wine is soft, but structured, vibrant, juicy and full-bodied. Drink it over the next 15-20 years."
- Robert Parker, Wine Advocate #222, December 2015
93 POINTS
"The 2013 Amuse Bouche is one of the more refined wines I have tasted here. Sweet floral and spice notes open up first, followed by an intricately woven fabric of expressive dark red fleshed fruits. Hints of menthol, tobacco and wild flowers add to the wine's sensual, perfumed personality. Elegant, supple and forward, the 2013 Amuse Bouche can be enjoyed young. The blend is 90% Merlot and 10% Cabernet Franc."
- Antonio Galloni, Vinous, October 2015
Amuse Bouche 2012 Napa Valley Red Blend
92 POINTS
"Aromas and flavors of walnuts, balsamic vinegar and fried fruits that follow through to a full body, round and juicy tannins and a savory finish. Some orange-peel undertone. Drink in 2018."
- James Suckling, December 2016
93 POINTS
"Bright, silky and elegant with tangy plum and fine acid structure; juicy and pure with finesse and huge aging potential. 95% Merlot, 5% Cabernet Franc."
- Tasting Panel, 2015
90+ POINTS
"The 2012 Proprietory Red Amuse Bouche offers juicy blue and red fruits along with surprisingly noticeable acidity, good cleanliness and purity, and a style that falls somewhere between a French Bordeaux and a Napa red wine. Although still youthful, it displays a potential for plenty of aromatic complexity, medium to full body, and savory flavors. The wine has yet to reveal its considerable potential, so give it several more years of bottle age and drink it over the following 10-15 years."
- Robert Parker, Wine Advocate, October 2014
Amuse Bouche 2011 Napa Valley Red Blend
92 POINTS
"Bright ruby-red. Aromas of black raspberry, coffee bean, smoke and chocolate mint. Nicely concentrated and sauve, with very good smoky intensity to the currant, herb, cherry and floral flavors. This savory, vinous wine boasts a restrained sweetness nicely leavened by harmonious acidity. Finishes with smooth tannins and excellent length. Balanced to age, but already very easy to drink."
- Stephen Tanzer's International Wine Cellar, May 2014
Amuse Bouche 2010 Napa Valley Red Blend
92 POINTS
"The 2010 Amuse Bouche (93% Merlot and 7% Cabernet Franc) is considered to be the California version of a top-class Pomerol. It possesses a deep ruby/purple color as well as a sexy, mocha and black cherry-scented bouquet with a hint of background toast. Round, juicy, supple-textured and opulent, it is hard to resist this full-bodied red's abundant quantities of fruit, glycerin and character. 92-94 points."
- Robert Parker, Wine Advocate, October 2013
92-94 POINTS
"Firm yet well-integrated tannins support the fruit in this nicely delineated, chiseled wine. Plums, dark cherries, mint and licorice all jump from the glass as the 2010 continues to open up. The combination of juiciness and structure is highly appealing. The long growing season produced a gorgeous, beautifully balanced wine. Anticipated maturity: 2012-2018."
- Antonio Galloni, Wine Advocate, Issue #204, December 2012
TOP 100 WINES - RobbReport's Holiday Host's Guide
"This Pomerol-style wine by Heidi Barrett, with its deeply saturated flavors of black cherry and cocoa, is as playful and lively as the original artwork that each year graces its label. This vintage features two paintings by the late Tony Curtis."
- Brett Anderson, "Winter Vintages: Our 100 favorite wines for the season", RobbReport Holiday 2012 Host's Guide
Amuse Bouche 2009 Napa Valley Red Blend
93 POINTS
"The 2009 Amuse Bouche is laced with freshly cut flowers, sweet spices and expressive red berries. Today, I find the 2009 beautifully expressive, with gorgeous aromatics, layers of fruit and lovely overall balance. This is a decidedly feminine, refined style of California Merlot, but it all works nicely. Layers of fruit continue to blossom through to the structured, powerful finish. Anticipated maturity: 2012-2019."
- Wine Advocate, Issue #204, December 2012
In The Big Leagues: Amuse Bouche
"In this partnership with John Schwartz, winemaker extraordinaire Heidi Barrett makes a powerplay to create a Pomerol-style Merlot with 4% Cab Franc in the Amuse Bouche 2009 Napa Valley Red. This is big league wine for big-league wine fans."
- The Tasting Panel, November 2011
94 POINTS
"Chocolate and crisp berries, bright plums and a deeply lush and well balanced profile make this an MVP (Merlot Very Powerful)."
- Anthony Dias Blue, The Tasting Panel, November 2011
Amuse Bouche 2008 Napa Valley Red Blend
93 POINTS
"Sweet, super-ripe red berries, mint and flowers all meld together in the 2008 Amuse Bouche. This is an especially high-toned, silky wine. There is considerable richness in the glass, but at the same time the alcohol is also a bit present at times. Anticipated maturity: 2012-2018."
- Wine Advocate, Issue #204, December 2012
95 POINTS
"One sip is all it takes to understand that this is a vital, impressive and possibly profound wine. A blend of 96% Merlot and 4% Cabernet Franc, it displays the voluptuous richness of a Heidi Barrett wine, but also shows a firmness of character and a structural dryness that elevate it. Exceptionally flavorful in blackberries and cherries, it has tantalizing hints of herbs, olive tapenade and, of course, intensely fine oak. Drink now - 2016."
- Wine Enthusiast, March 2011
"No greater artists have lent their talents to the viticultural stage than Jim Barbour and Heidi Barrett, who achieved sublime harmony[in the 2008 vintage] - an unctuous Merlot lightly laced with Cabernet Franc that conjures deep chords of black cherry and high notes of dark chocolate, Tahitian vanilla, and coffee."
- Robb Report, November 2010
Amuse Bouche 2007 Napa Valley Red Blend
93 POINTS
"Dominated by Merlot, but with a small amount of Cabernet Franc included in the blend, this limited production, boutique offering hits all the right spots on the palate and olfactory receptors. Its dark ruby/purple color is accompanied by sweet aromas of plums, black cherries, soy, and oak and the wine is fleshy, textured, flamboyant, lush, and delicious. Amuse Bouche's finest effort to date, it can be enjoyed over the next 12-15 years."
- Robert Parker, The Wine Advocate, Issue #186, December 2009
91-93 POINTS
"The brilliant 2007 is inky/ruby/purple in color and is accompanied by sweet scents of melted chocolate, licorice, forest floor, and gobs of black cherry and cassis fruit, and a wine with a superb texture, an opulent, flamboyant mouthfeel, and a stunning finish. It should drink nicely for a decade or more. (Not yet released) This boutique operation...seems to have hit its stride. There are about 500 cases each of the 2006 and 2007, which are virtually all Merlot."
- Robert Parker, Wine Advocate #180, December 2008
91+ POINTS
"Bright red-ruby. High-pitched, slightly candied aromas of crushed red berries and plum lifted by a whiff of rose petal. A juicy, sweet, slightly high-toned fruit bomb, with good energy to its creamy, exotic red berry flavors. Boasts lovely clarity and finishing perfume."
- Stephen Tanzer's International Wine Cellar, May/June 2010
91 POINTS
12 California Merlots: A dozen wines that show the elegance and supple texture the Merlot grape can attain in the Golden State
"Supple and beautifully layered, with black cherry and toasty vanilla aromas and currant, spice and roasted sage flavors that start delicately and then build to a rich, ripely tannic finish. Merlot and Cabernet Franc. Drink now through 2015. 500 cases made."
- T.F., Wine Spectator
Top 100 Perfect Pours of the World
"Pomerol-style wine from Napa Valley produced by legendary winemaker Heidi Barrett, this Merlot-based red is darkly vibrant, exuding aromas of blackberry and black plum. On the palate, the wine expresses earthy, forest-floor flavors or wild mushroom alongside juicy berry fruit, roasted coffee and bittersweet chocolate."
- Robb Report, October 2009
Amuse Bouche 2006 Napa Valley Red Blend
91 POINTS
" The 2006 exhibits beautiful notes of chocolate, mocha, espresso roast, black cherries, and black currants. Deep and rich, with none of the tough tannins that can be found in 2006 Bordeaux varietals, its finish is deep, lush, and opulent. Consume it over the next decade. This boutique operation...seems to have hit its stride. There are about 500 cases each of the 2006 and 2007, which are virtually all Merlot."
- Robert Parker, Wine Advocate #180, December 2008

92 POINTS
"Bright ruby-red. Vibrant aromas of cassis, flowers and incense, lifted by a violet topnote. Suave and sexy wine, at once plush and light on its feet, with excellent definition and intensity to its scented flavors of dark berries and brown spices. Finishes long and perfumed, with fine-grained tannins."
- Stephen Tanzer's International Wine Cellar, December 2008
92 POINTS
"Intense and well-focused, showing layered aromas of blackberry, espresso and toasty herbs, with complex flavors of briary plum, sage and hints of leather. The tannins are firm but ripe, with a hint of heat on the finish. Merlot and Cabernet Franc. Drink now through 2013."
- Wine Spectator, August 2008
Merlot Masterpieces
Each vintage of Amuse Bouche is, quite literally, a work of art
"...the 2006 vintage is not lacking in (flavor): Silky, elegant, and smoky, this California take on Pomerol is...cooler than, say, the bright, berry-filled 2005 vintage, showing more dark plum and earthy spice. Yet the wine's structure and style are pure Barrett, which is to say they are pure artistry."
- Brett Anderson, Robb Report, October 2007
Amuse Bouche 2005 Napa Valley Red Blend
Napa v Bordeaux
"Better than Bordeaux? Spurrier's Standouts"
* * * * * 5 Star Rating
"Made by cult winemaker Heidi Barrett from 92% Merlot and 8% Cabernet Franc, silky smooth, a really classy wine. 2008-16"
- Steve Spurrier, Decanter, September 2007
(see full article)
Amuse Bouche 2004 Napa Valley Red Blend
93 POINTS
"Blended from Merlot and Cabernet Franc, this wine is styled along the lines of a Right Bank Bordeaux, and the finished product offers a very plausible likeness. Rich and concentrated but not heavy, it is also deeply flavored without being overt or inelegant. Oak notes are prominent but pleasing, lending a smokiness and spiciness that works very well with the fruit notes, which recall black cherries and dark berries along with a subtle red fruit backnote. Remarkably complex and integrated for such a young wine, this is a very impressive bottling."
- Michael Franz, Wine Review Online, May 8, 2007
93 POINTS
"This is one of those superripe, superopulent reds that makes tasters stop and pause. With 94 percent Merlot and the remainder Cab Franc, it's so ripe in cassis, cherry and chocolate truffle flavors, so smooth in tannins, so voluptuous and balanced, it can only have been made in Napa Valley, and by a winemaker of the stature of Heidi Peterson Barrett. Drink now-through 2010, at least."
- Wine Enthusiast (3/07)
91 POINTS
"Saturated ruby-red.High-toned, slightly medicinal aromas of blackberry, black raspberry and bitter chocolate. Rich and densely packed, with distinctly backward flavors of black fruits, minerals, graphite, licorice and dark chocolate, all lifted by intriguing peppery and floral nuances. I like this wine's restrained sweetness and focus, not to mention its suave texture. Finishes with sweet tannins and excellent length. This Saint-Emilion blend has been consistently fresh and interesting in recent years."
- Stephen Tanzer, International Wine Cellar (01/07)
90 POINTS
"This blend of 98% Merlot and 2% Cabernet Franc from the eastern hills of St. Helena exhibits a dark plum/purple color as well as a big, rich perfume of toffee, mocha, chocolate, espresso roast, and berry fruit. Medium-bodied, pure, and elegant, with an attractive, savory finish."
- Robert Parker Jr., Wine Advocate (12/06)
Top 100 Wines of the Year
"…it's so supple and finely textured that it will find plenty of fans at its price. Succulent plum and black cherry fruit, subtle oak and background notes of tar and coffee close with refreshing acidity."
- Wines of the Year issue, San Francisco Chronicle (12/3/06)
Amuse Bouche 2003 Napa Valley Red Blend
"Screaming Eagle winemaker Heidi Barrett partnered with a friend to produce this stunning Merlot and Cabernet Franc based blend. Silky yet powerful, the wine offers intense black cherry and playful blackberry flavors coated in a blanket of dark chocolate and rich coffee.
- "The Finest Wines, Spirits, Jewlery & Watches - More than
100 of the most tasteful ways to celebrate the holiday season", Robb Report - Holiday Host Guide issue (11/06)
95 POINTS
"Heidi Barrett's made wine for Napa Valley's best, which is what this awe-inspiring, elegant Merlot-based beauty is destined to be."
- Patterson's Beverage Journal (9/06)
"How to amuse your mouth.
An amuse-bouche is a little something the chef sends out as the meal gets under way, just to amuse your mouth while you're waiting for the first course. This French term is also the name of the Merlot-based wine created by Heidi Peterson, one of Napa Valley's most lauded winemakers. A different artist is commissioned each year to created the label art. The 2004 vintage of Amuse-Bouche has just been released, and it's a stunner - pure and dense with gorgeous plum, cassis and blackberry fruit. This powerful blend of Merlot and Cabernet Franc exudes elegance, depth and spice. It's rich, but not a fruit bomb—everything is in balance. Amuse-Bouche is available only in a 6-bottle case, which ships along with a signed lithograph by the artist (for 2004, it's Ira Yaeger).....expensive, but worth it. "
- Andy Blue, Food & Wine Writer, CBS Radio (08/06)
92 POINTS - Rated as one of the Best California Merlots
"...this blend of 97% Merlot and 3% Cabernet Franc is a limited production (400 cases) wine.... It exhibits a deep ruby/purple color along with a big, sweet nose of roasted espresso, mocha, chocolate, black cherries, and currants. Well-textured, with superb fruit purity and intensity, full body, and a long finish."
- Robert Parker Jr., Wine Advocate (12/05)
93 POINTS - NAPA'S MERLOT MAGIC
"...perennial favorite Amuse Bouche; its Napa Valley bottling is a Pomerol-inspired Merlot blend from a partnership that includes Heidi Peterson Barrett. It's wonderfully aromatic, rich and polished."
- James Laube, Wine Spectator (10/15/05)
90 POINTS
"Bright ruby-red. Crystallized currant, licorice and menthol on the nose. Round and ripe but not thick or heavy. Supple but tangy flavors of bitter cherry, red licorice, herbs and spices. Expands nicely on the back half. At once creamy and juicy, with good breadth and fine tannins... graceful and fresh."
- Stephen Tanzer, International Wine Cellar (01/06)
93 POINTS
"Rare Napa reds that are priced in the stratosphere aren't novel any longer, but this one offers some unusual features. Most importantly, it is geared more toward complexity and finesse than the unbridled intensity and power sought by the makers of most Napa "cult" wines. Crafted from Merlot and Cabernet Franc, it displays a host of interesting complexities even in its extreme youth, with a core of dark berry and black cherry fruit accented with nuances of cocoa, dried herbs, woodsmoke and spices. Oak notes are impressively integrated with the fruit..."
- Michael Franz, Washington Post (08/05)
Inspired Winemakers - One of the Top Winemakers in the US
"There will be some high-profile celebrity consultants whose clients' wines score high points in the rating game, but are made in such miniscule quantities that they are impossible to find even if you can afford the three-figure price tag--think Heidi Barrett, the brilliant consultant winemaker currently now working at Napa's Screaming Eagle Winery. "
- Forbes Magazine (11/05)
"... it's vibrantly flavored, yet refined and balanced. Aromas of violet, black cherry and red berry lead to a rich palate of blackberry, black plum, spice and not a trace of herb. The tannins are velvety, though there's firm structure and crisp acidity that suggest long-term aging. Impressive..."
- Linda Murphy, San Francisco Chronicle (07/21/05)
96 POINTS
"Dark and vibrant color; bright, smooth and luscious with fresh, pure plum and blueberry fruit plus soft new oak; rich and very long with unflagging flavors; notes of cassis, cinnamon, licorice, vanilla and spice; concentrated and powerful, yet extremely elegant. A richer and more complex wine than the blockbuster 2002 vintage. This is what merlot CAN be."
- Andy Blue, Bon Appetit (06/05)
93 POINTS
"Dark in color, with wonderful perfumed cassis, currant and black cherry fruit that's openly aromatic. The flavors are rich and polished on the palate, with a plush, dense texture and long, intircate finish that picks up nuances of cedary oak and fresh earth. Merlot and Cabernet Franc. Drink now through 2012."
- Wine Spectator (07/05)
Amuse Bouche 2002 Napa Valley Red Blend
92 POINTS
"Primarily Merlot blended with a small amount of Cabernet Franc, Amuse Bouche's Merlot is packaged in a heavy, artisanal bottle displaying the artwork of Guy Buffet on the label. It is a classic, high quality Merlot with an opaque ruby/purple color as well as notes of sweet cherries, Asian plum sauce, and hints of camphor and ink. The fragrant aromatics are followed by a medium to full-bodied wine revealing gorgeous fruit, purity, glycerin and texture. This 2002 appears to have hit full maturity and should drink well for another decade given its level of concentration and balance."
- Robert Parker, The Wine Advocate #201, June 2012
Auction Napa Valley
".... Auction Napa Valley raises in excess of $10.5 million for local Napa charities. Amuse Bouche Napa Valley Merlot was one of the centerpieces of the 'Heidi Barrett' lot featuring large format bottles of wines produced by Heidi Barrrett. The lot also included a case of the next vintage of each featured wine and a dinner with Heidi prepared by the Ogdens. The lot was auctioned for $175,000."
- Auction Napa Valley (June 05)
"...great recent discover is a wine named - Amuse Bouche, a Napa Valley wine made from Merlot and Cabernet Franc, obviously with Pomerol's greatest names in mind. Having followed California Merlot for thirty years, I was absolutely mesmerized by this one.
Unquestionably, it is the finest Merlot made here
in terms of finesse, charm, complexity, texture and whatever else one looks for in a fine Pomerol. With this particular wine, Heidi P. Barrett leaves no doubt that she reigns supreme as California's finest winemaker. She is behind Screaming Eagle Cabernets which remain 'the' cult wine..."
- Norm Roby,
Decanter Magazine
(03/05)
92 POINTS - Top Rated Merlot
"A blend of merlot and cabernet franc. Bright ruby-red. Aromas of bitter cherry, plum, licorice, dark chocolate, tobacco and smoke. Juicy, sappy and fruity, with dark berry, mineral, licorice, tobacco and fresh herb flavors enlivened by harmonious acidity. Vibrant and light on its feet. Elegant, flavorful wine, finishing with fine tannins and lovely verve."
- "Best New Releases from California", Stephen Tanzer, International Wine Cellar (01/05)
"The cream of last year's crop. I've been reviewing the nearly 6000 wines I tasted last year, and I've come up with a short list of the best of the best. In the American red category, I gave high scores to the 2002 Amuse Bouche , a cult Merlot from Heidi Peterson Barrett."
- WCBS Lifestyle Minute with Andy Blue (1/05), listing Amuse Bouche wine as one of best wines of the year
92 POINTS
"Ultraripe and showy, with juicy wild berry, blackberry and currant flavors that are complex and concentrated, with a tight focus and a long, lingering aftertaste. Not shy about the use of toasty oak, which folds in nicely. A touch of heat on the finish underscores the ripeness, and it has ample tannins. Merlot and Cabernet Franc. Best from 2005 through 2012."
-Wine Spectator, (5/04)
"When tasted this spring, the 2002 Amuse Bouche was gorgeous. It's modeled after the rich, plush Merlot-based Pomerols of Bordeaux, with luscious raspberry, cranberry and cassis aromas and flavors and hints of mint, black tea, tobacco and black currant. Firm in structure, it still had soft, velvety tannins."
- Linda Murphy, Wine Editor, San Francisco Chronicle (7/03)
"I just tasted the wine and it is the essence of merlot. It is the birth of a cult wine."
- Anthony Dias Blue, Food & Wine Commentator, San Jose Mercury News (8/03)
"Classics Are for Keeping. Heidi Peterson takes on Petrus: fleshy, explosive, and lush, with huge plum and blackberry fruit balanced on a pure stream of searing acidity - the quintessential Merlot."
- Robb Report (11/03), listing Amuse Bouche wine as one of best wines in the world
"Merlot for Your Amusement"
- James Laube, Senior Editor, Wine Spectator (9/03)
"Heidi Peterson Barrett -The Wine Diva of Napa"
- Time Magazine, October 28, 2002
"Winemaker Heidi Barrett - the talent behind such California cult wines as Screaming Eagle, Lamborn Family and La Sirena has taken Napa Valley garagisme to new heights with her latest creation. Amuse Bouche wine is a Merlot driven blend based on the same grapes as Chateau Petrus - This could be the beginning of another cult wine."
- Orient Express Magazine (12/03)